What are Florentine Cookies
Florentine cookies are thin, crispy cookies with nuts and dried fruit laced together with a delicate caramel. They are not your regular cookies because they are halfway between a cookie and a candy. Sometimes, the bottoms are brushed with chocolate for a festive feel.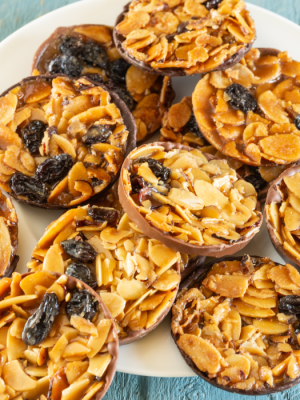 Click on the ingredients to shop. You may also purchase promo Bundle DIY Florentine Set here.
Preheat the oven to 150°C. In a large baking pan, spread sliced almonds, pumpkin seeds, and sunflower seeds. Bake for 10 minutes or until light golden brown. Remove from the oven and cool completely before using.
In a large bowl, pour the toasted nuts and seeds. Add the sesame seeds and florentine flour. Stir until well combined.
If using a ring mold. Line baking pans with silicone mats. Place a 3-inch/8 cm ring mold on the mat and spread about 1 tbsp of the mixture thinly and evenly. Remove the ring mold and repeat with the rest of the mixture.
If using muffin pans. Spread about 1/2 tbsp of the mixture on the muffin pans and spread thinly and evenly. Repeat with the rest of the mixture.
Bake for 12-15 minutes or until golden brown.
Remove from the oven and let the cookies cool completely before removing them from the pan.